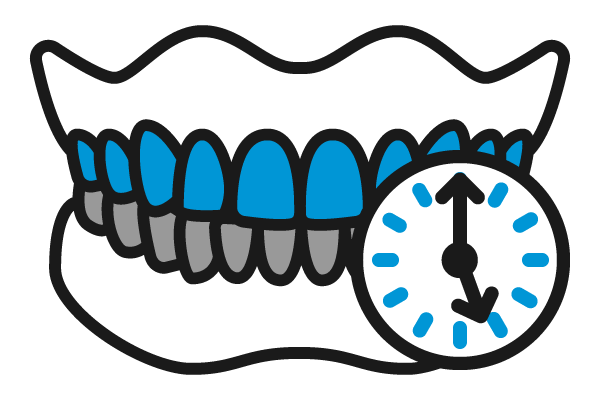 Our Same Day Teeth 'All-on-Four' dental implant technique is the ultimate solution for patients living with little or no teeth.
This state-of-the-art cosmetic dental implant procedure is the closest thing to a natural set of teeth currently available in the world of cosmetic dental treatment.
Minimal recovery time – Can eliminate the need for bone grafting – Easy maintenance through proper oral hygiene – Restored ability to eat all types of foods – Completely secure cosmetic solution – Long-term, potentially lifetime results – Facial rejuvenation in just one day – Self-confidence and quality of life enhancing
By choosing to have all-on-four dental implants, patients will benefit from never having to remove their teeth again as their new teeth can be looked after as if they were real teeth. Same day dental implants really can change your life, and have changed the lives of many of our patients so far. For dental patients facing the possibility of losing most (or all) of their teeth, All-on-Four dental implants are a real consideration to make.
Our All-on-Four dental implant technique utilises four dental implants to attach a new set of permanent replacement teeth onto. This unique dental implant treatment has been developed to provide patients with the opportunity to go home the very same day with a complete new set of teeth. Working alongside our clinical dental technician, our dental surgeon will perform the same day All-on-Four dental implant treatment and can deliver maximum results in the shortest time whilst delivering minimal discomfort to the patient.
In the majority of cases patients may experience only minor soreness the next day and can eat a light meal that same evening and in most cases, patients may even return to work the very next day. For more information on same day dental implants and our All-on-Four dental implant procedure, and how it can potentially change your life, please feel free to arrange a free dental implant consultation.
Are You Considering Dental Implants?
Book a FREE CONSULTATION and take your first step towards a happier, healthier smile.
Your initial visit will allow you to look around the clinic, meet the team, and discuss any concerns you may have about dental implants with one of our experienced dental implant surgeons.