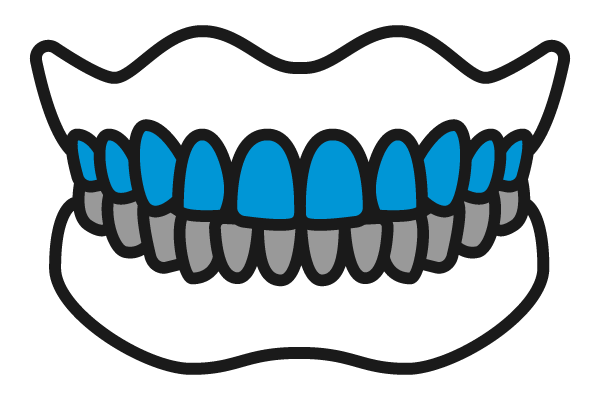 Patients who have full or part dentures will be pleased to know that dentures can now be secured by dental implants providing a massively improved solution over traditional removable dentures.
Implant retained dentures mean there is no need for adhesives, pastes, sticky gum or powders as the dentures are held securely in place my dental implants anchored to the patients jaw bone.
Newcastle Dental Implant Clinic have a dedicated dental surgeon, Neil Sampson, who working alongside our experienced Clinical Dental Technician, Simon Owen, can produce aesthetically accurate implant retained dentures. The dentures we produce help to maintain your facial structures by preserving the remaining bone in your jaws whilst providing maximum comfort and optimal fit.
Correctly fitted and produced implant retained cosmetic dentures will minimise the wrinkles around your the mouth by providing lip-support, improve your ability to chew food, and have an overall positive effect on he quality of your life in general with no more embarrassing loose denture moments. An individual lower or upper denture may only need two dental implants to give a completely life-changing transformation.
In more complex situations we can also provide four dental implants for a more secure fixing depending on the health of your jaw following a full oral assessment. For more information on implant retained dentures and how they can potentially change your life please feel free to arrange a free dental implant consultation.
Are You Considering Dental Implants?
Book a FREE CONSULTATION and take your first step towards a happier, healthier smile.
Your initial visit will allow you to look around the clinic, meet the team, and discuss any concerns you may have about dental implants with one of our experienced dental implant surgeons.