A dental crown is a custom-made cap that can be made from a variety of durable materials to restore a tooth.
The dental crown will sit on top of a prepared tooth to restore, or visually improve the aesthetics of the tooth.
The shade of the crown will be tailor-made to each patient's individual needs and will match the colour of your neighbouring teeth.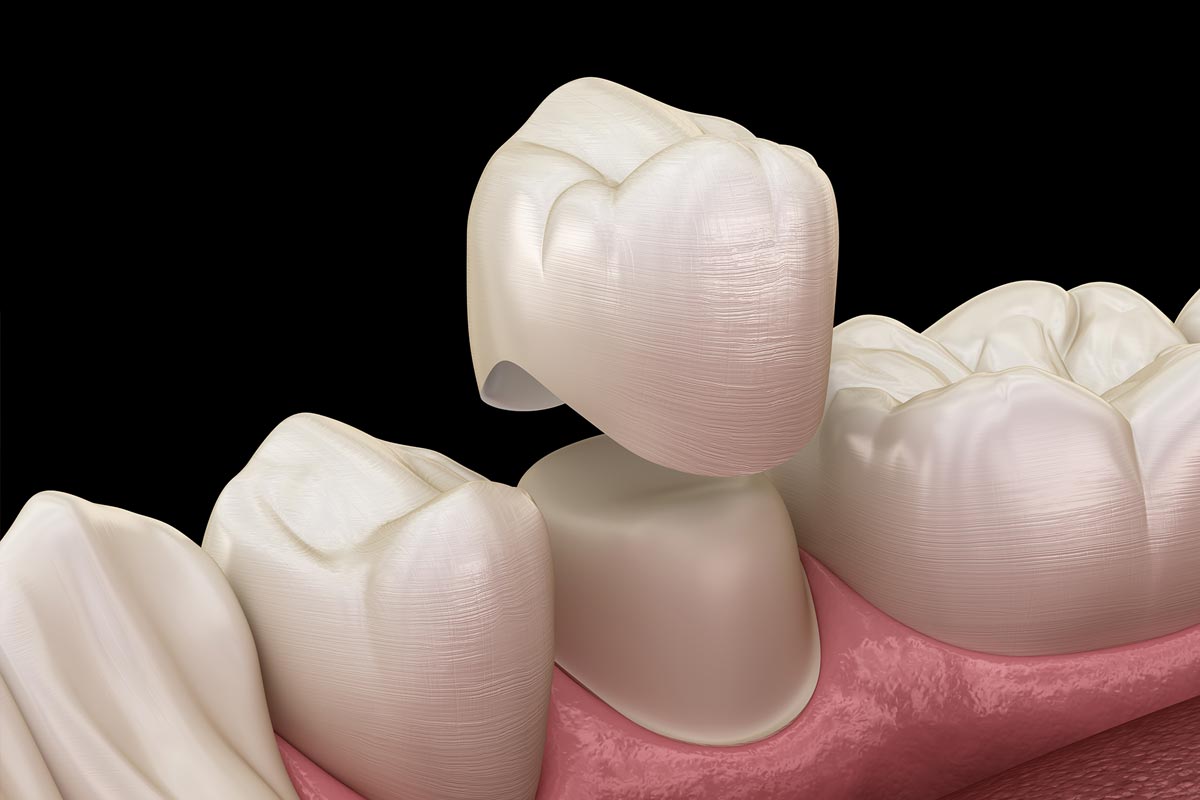 What does the treatment process for a dental crown involve?
Following an initial consultation, you would also generally require a further two visits to the clinic to prepare and fit a dental crown.
Your first appointment will involve the preparation of the natural tooth, the creation of a treatment plan, and choosing a material to produce your crown from. A temporary solution will be provided until your new crown is ready.
Your second visit would typically happen two weeks after the first and would involve the removal of your temporary crown, checking the new crown for optimal fit, and the final cementation of the dental crown.
When would you need to consider a dental crown?
A dental crown may be required in a range of common situations such as the following:
To protect a weak or fractured tooth
To restore a broken or worn down tooth
To cover and support a tooth with a large filling
To cover a dental implant
To cover severely discoloured teeth
To make a cosmetic modification to unsightly teeth
The Benefits of CAD/CAM Produced Dental Crowns
We are lucky to have our own dental laboratory which makes us a truly unique dental clinic and is a great way to help patients feel confident about the delivery of their dental crown treatment. All cases are carefully discussed and expertly planned, and often include all members of the team from our experienced cosmetic dentists to our on-site dental technicians.
We pride ourselves on our investment in the latest technology with all dental crowns being manufactured in-house by a team of experienced dental technicians.
By using the latest technology and materials our promise is to deliver world-class results and provide you with complete peace of mind at every step of your treatment process.
Championing Excellence in Dentistry
Arrange a no obligation phone consultation
Its the best way to tell us about your dental goals and ask any questions you may have about the range of dental treatments we offer here at the clinic.
"Helping people achieve their dental goals is the most rewarding part of my job.
"Your dental journey is all about you and together we can achieve the results you deserve.
"I am your first point of contact for all questions big or small and am committed to you and your journey with us."
Emily Bearpark, Treatment Coordinator
Ready to start your journey?
All we need is a few simple contact details
By completing the following form Emily will arrange to give you a call at a time which suits you best.
We will not share your details with anyone and your privacy is our utmost priority.