Dr Francesca Dash is a Leading Invisalign® Diamond Provider in Stoke-on-Trent
Francesca is well known and respected for her friendly nature and personable approach to dental care. She has focused her career on providing orthodontic (teeth straightening) treatments to patients for many years, including Invisalign® Clear Braces.
She has extensive knowledge and experience in both fixed and removable appliances having worked as a Clinical Assistant in the Royal Stoke University Hospital Orthodontics Department for over 13 years.
Facts about Francesca
She has provided Invisalign® treatments since 2006
She is the UK's first female 'Diamond Invisalign® Provider'
She has completed almost 2000 Invisalign® cases
She is ranked in the top 50 Invisalign® providers in Europe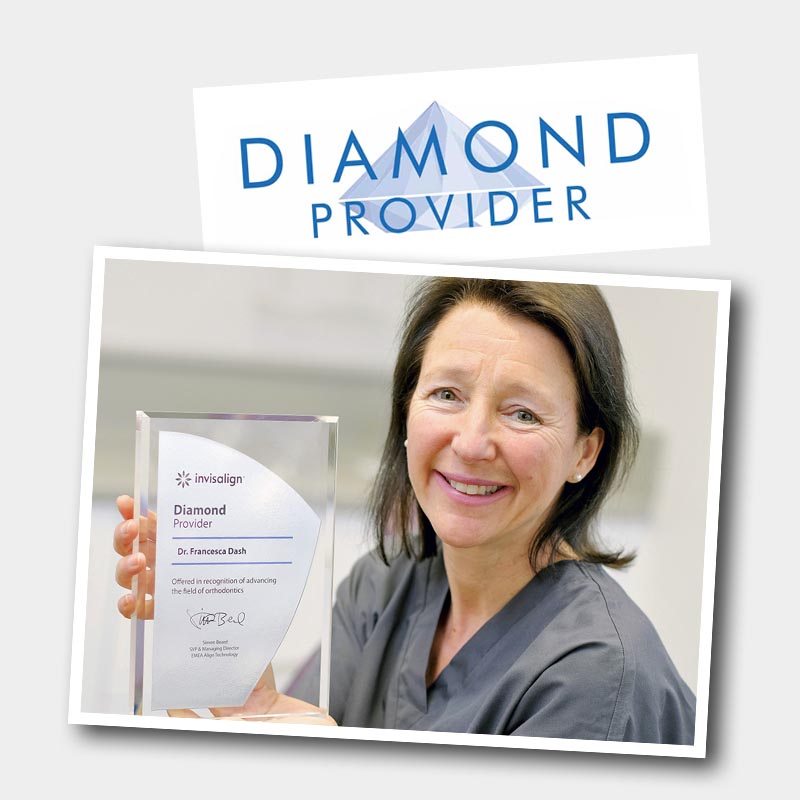 Join hundreds of patients across Stoke-on-Trent, Staffordshire, who have chosen the world's most advanced clear aligner system to help them achieve a confident dream smile.
Made from a strong medical grade thermoplastic, Invisalign® clear aligners are designed to slowly realign the teeth with an appropriate placement of controlled movement. 
Unlike traditional braces, Invisalign® not only controls the amount of movement per aligner, but also the timing of the movement. So at each stage, only certain teeth are allowed to move, as per the Invisalign® treatment plan for that particular stage.
This results in an efficient force delivery system that moves teeth into the desired prescribed position.
What are the benefits of Invisalign®?
The worlds most comfortable solution for a dream smile
1. It's
Removable
Unlike traditional metal braces, Invisalign® clear aligners are 100% removable so you can take them out at any time.
2. It's
Comfortable
Invisalign® aligners are designed for comfortable, they have no metal wires or brackets to irritate your mouth or gums.
3. It's
Nearly Invisible
Invisalign® aligners are made from a clear material which makes them almost completely invisible.
4. It's
Affordable
We offer a range of interest-free finance solutions which make Invisalign® treatment available to almost all budgets.
The Invisalign® Treatment Process?
Three steps forward, no steps back, to straighter looking teeth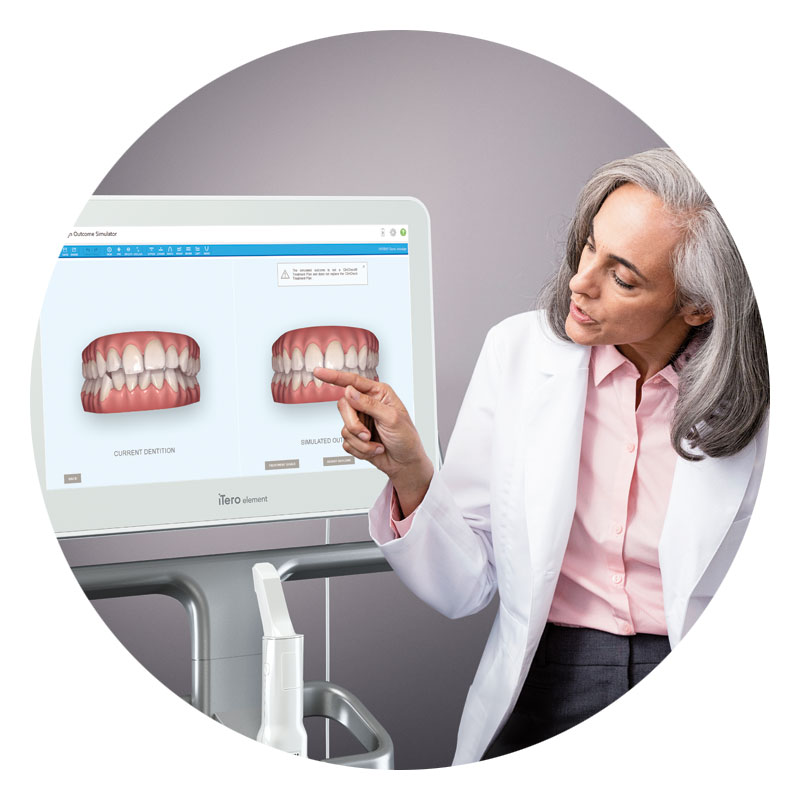 1. Assessment
Once you've been fully assessed for your suitability as an Invisalign® patient our experienced team will take a series of photos, X-rays and digital scans of your teeth. This detailed information will then be used to create a personalised ClinCheck 3D treatment plan.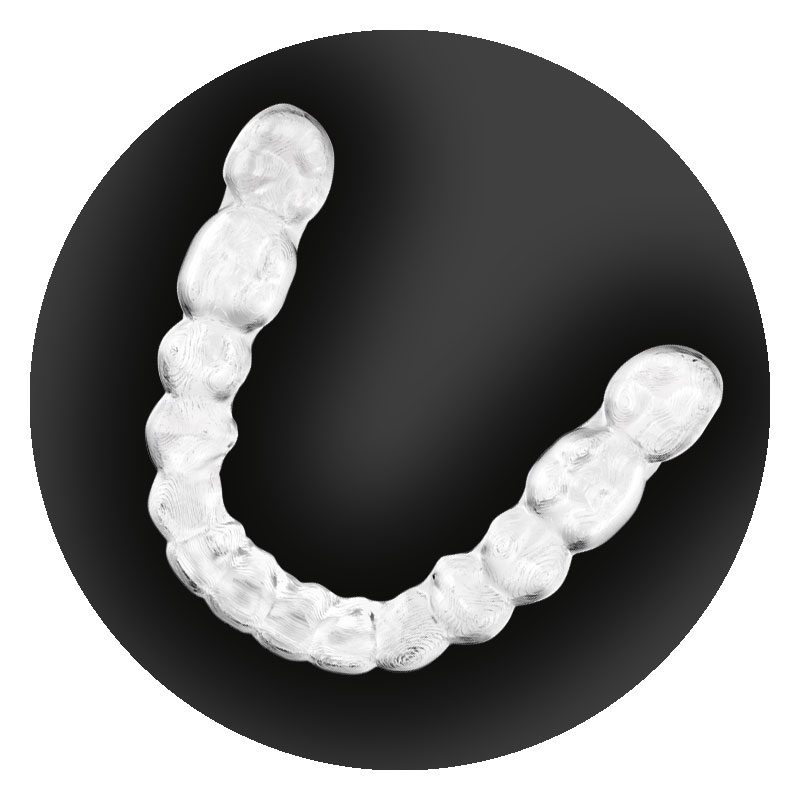 2. Fitting
After your Invisalign® clear aligners have been manufactured they will be shipped to us here at the clinic. Your Invisalign® treatment plan will include a series of clear aligners which you'll be required to wear every day and change every 1-2 weeks (approximately).
3. Maintenance
During your treatment you'll be invited to visit us for a review appointment every 6-8 weeks (approximately) in order to monitor progress and receive new aligners. After finishing your treatment plan, retainers will be required to maintain your new smile.
A unique solution from Invisalign® which enables the simulation of your new smile!
Simulating the potential results of Invisalign® treatment is as easy as taking a selfie and can be demonstrated during a free Invisalign® consultation here at the clinic.
Thanks to the powerful SmileView™ technology we can simulate the outcome of your personal transformation right before your eyes.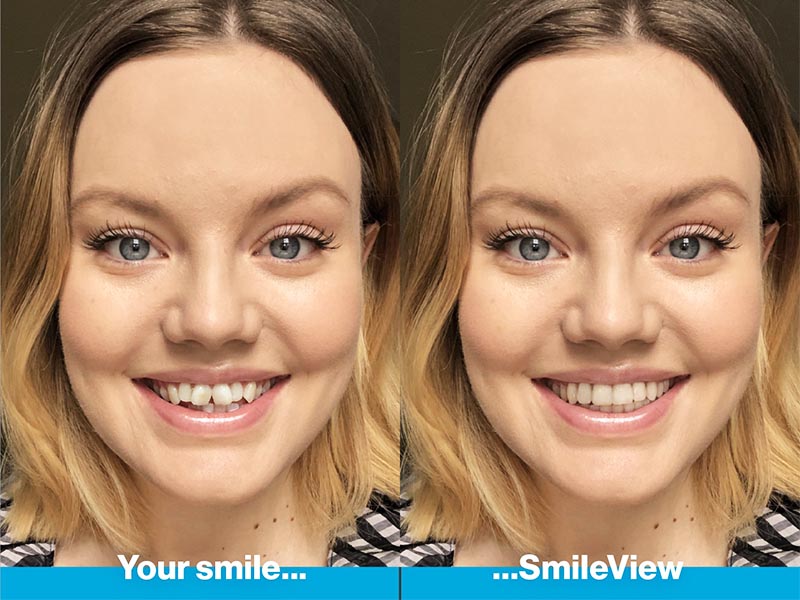 How much do Invisalign® clear braces cost?
Invisalign® aligners start at around £2,000 and can range up to around £4,500 depending on how much correction is required. Each patient's treatment plan is unique so the cost of treatment will vary from person to person.
The Invisalign® treatment process typically requires a new set of aligners every 2 weeks in order to further align the teeth until they are all moved to their desired position.
For patients with a greater level of misalignment, a greater number of clear aligners will be required, therefore increasing both the treatment time and overall cost.

Spread the cost of Invisalign® with interest FREE payment options
As an appointed representative of Chrysalis Finance Limited which is authorised and regulated by the Financial Conduct Authority to carry out the regulated activity of credit broking, we are now able to offer a range of payment options to help make your dream smile become reality.
Would you like to speak to someone about Invisalign®?
Request a callback from our friendly treatment coordinator
Making the right choice for your dental health should always be an informed decision. You should feel confident that all stages of treatment have been explained and no questions left unanswered, it should not be a daunting prospect.
To help give you confidence in making the right decision we can arrange for our treatment coordinator to give you a call to talk about any of our treatments.
This friendly chat is your opportunity to ask any questions you may have and could be your first step towards your dream smile.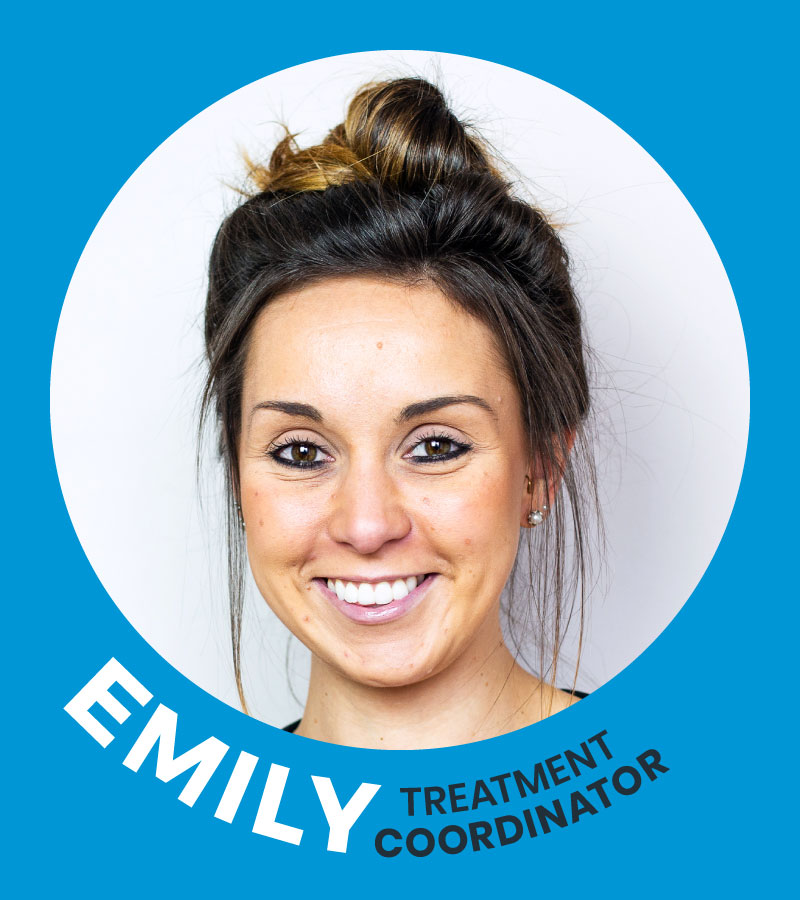 Would you still like to know more about Invisalign®?
Request an Invisalign® Information Pack
Invisalign® clear orthodontic braces have transformed the smiles of over 6 million people worldwide. To find out more about this life changing dental treatment please feel free to request an Invisalign® information pack which is full of useful information.